Invisible Aligners in Burwood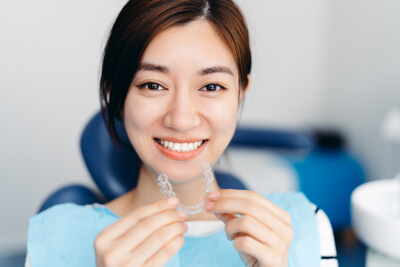 Invisible aligners, in the simplest terms, are a way to move teeth without using metal braces. Unlike traditional metal braces, they're comfortable, and no one has to know you're wearing them.
You might benefit from this appliance if you have crowded teeth, spaces between your teeth, crooked teeth, open bite, or crossbite. This method may address most, but not all, teeth straightening concerns.
Are Aligners Right for Me?
At Burwood Dental Centre, we offer you a free consultation to see if this treatment is suitable for your dental needs. Our dentist will determine what treatment is best for your individual case. You will receive a comprehensive quote and treatment plan, and you'll see a projection of what your smile will look like at the end.
We offer Invisalign treatment, ClearCorrect, and TrioClear™, the industry's leading producers of invisible aligners. We'll also be offering SureSmile® in the near future. These companies all offer different packages, depending on your needs and severity of tooth problems. The choice of brand is up to you.
Advantages of Invisible Aligners
Inconspicuous: aligners are virtually invisible
Removable: aligners are easy to insert and remove
Better oral health: aligners are removable, so you can still floss and brush your teeth as you would normally do
Less pain: aligners are better tolerated, with very little discomfort and irritation.
Fewer doctor visits: depending on the complexity of your case, fewer check-ups are usually needed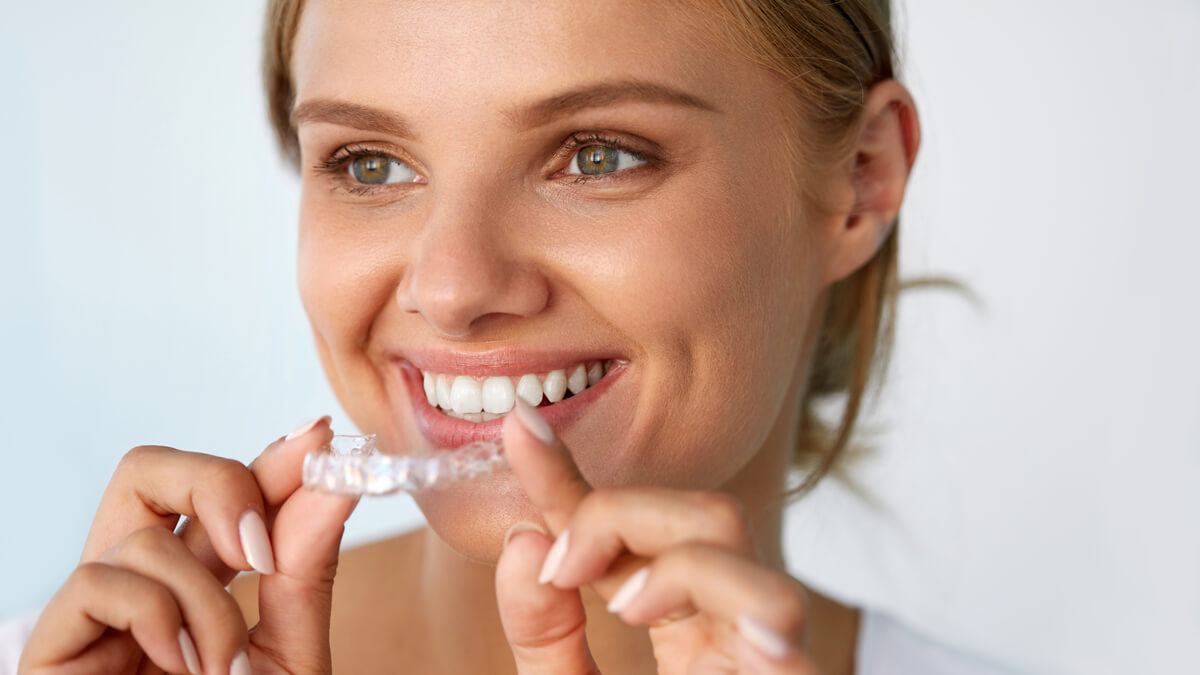 How to Proceed
Your first visit is usually just a consultation, where we assess your teeth to determine whether you are a candidate for treatment. Most patients are suitable, but in some cases, we may refer you to a different dental professional. We'll also discuss the cost, required time, and expected outcome.
If you decide to proceed, we'll do a digital scan of your teeth using the Itero 5D element scanner. It allows us to take digital impressions and design your treatment plan. Your dentist might also take some pre-treatment photographs to keep as records and show you a simulated outcome of your treatment.
The scans are sent to the lab to create your treatment plan. When it comes back, it's reviewed, we make any necessary corrections, and with your approval, send it back to the lab for production of the trays. The completed set usually takes 2-3 weeks.
Following the Plan
Invisible aligners work differently for each case, with the average length of time 12-18 months. It's important to wear each set of trays every day, all day. The only exception is to eat and take care of regular oral healthcare needs. If the care protocols are not followed, any correction that may have been achieved could be reversed.
Costs range roughly between $3,500-$8,500. Your complete care plan will be provided during your free consultation.
If your dental insurance covers orthodontic care, your procedure may be covered by your policy. We suggest you check with your health fund, as policies differ from fund to fund.
Book Your Appointment
Contact Burwood Dental Centre to find out more about our options to straighten your teeth. Call today.
CONTACT US

Invisible Aligners Burwood VIC | (03) 9888 7377