Teeth Whitening in Burwood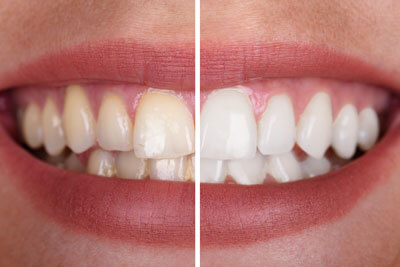 Teeth whitening is one of the fastest and most cost-effective ways to refresh your beautiful smile! It's a cosmetic procedure that helps lighten teeth by removing stains and discolouration. At Burwood Dental Centre, we offer you both the take-home and in-chair options for your convenience.
If you think your discoloured teeth require care, visit our clinic to get a consultation from our skilled dentists, along with a check-up. These procedures are more effective if you have your teeth professionally cleaned beforehand.
While there are over-the-counter teeth brightening options, you will achieve better results by consulting one of our qualified dentists, as our procedures typically contain a higher percentage of peroxide and are less abrasive. You get better results without damaging your tooth enamel.

Choosing the Right Option for You
All whitening products contain peroxide, either as carbamide peroxide or hydrogen peroxide. The ones with stronger compositions are for in-practice treatment only. We use Philips Zoom and Pola Day & Night whitening systems.
Take-home option
Some come with trays, or you can choose to have custom-made trays that place the whitening product directly against your teeth, minimising contact with your gums.
For custom trays, the dentist will take a mould of your mouth and give it to you, along with the whitening agent. You can then take it home and use it whenever you want. The kit may last anywhere from a few months up to a year. Children's whitening kits are only available as take-home.
Depending on your dentist's instructions and specifications, this form of whitening can usually be done in 3-4 weeks. This method allows you to use the products as and when required, and is less concentrated, leading to less tooth sensitivity. Prices start at $399.
In-chair teeth whitening
Your dentist will first place either a rubber shield or gel on your gums. This protects your gums and other soft tissues from the effects of bleaching. They will then apply the whitening product to your teeth.
The active ingredients are broken down, and as oxygen gets into the enamel on your teeth, stains are removed, leaving you with a brighter smile. Some teeth brightening procedures may also involve using a light or laser to activate the whitening product. Prices for the in-chair whitening process start at $650.
A Brighter Smile is Possible
Don't wait another day for a bright, beautiful smile. Book a consultation today to find out more.
CONTACT US

Teeth Whitening Burwood VIC | (03) 9888 7377